Enable a
productive team

and a positive culture.

Use our Performance Management Tools to run more effective 1:1 meetings, replace traditional performance reviews, keep your team in the loop, and build rapport.

Try Tools free Questions? Let's chat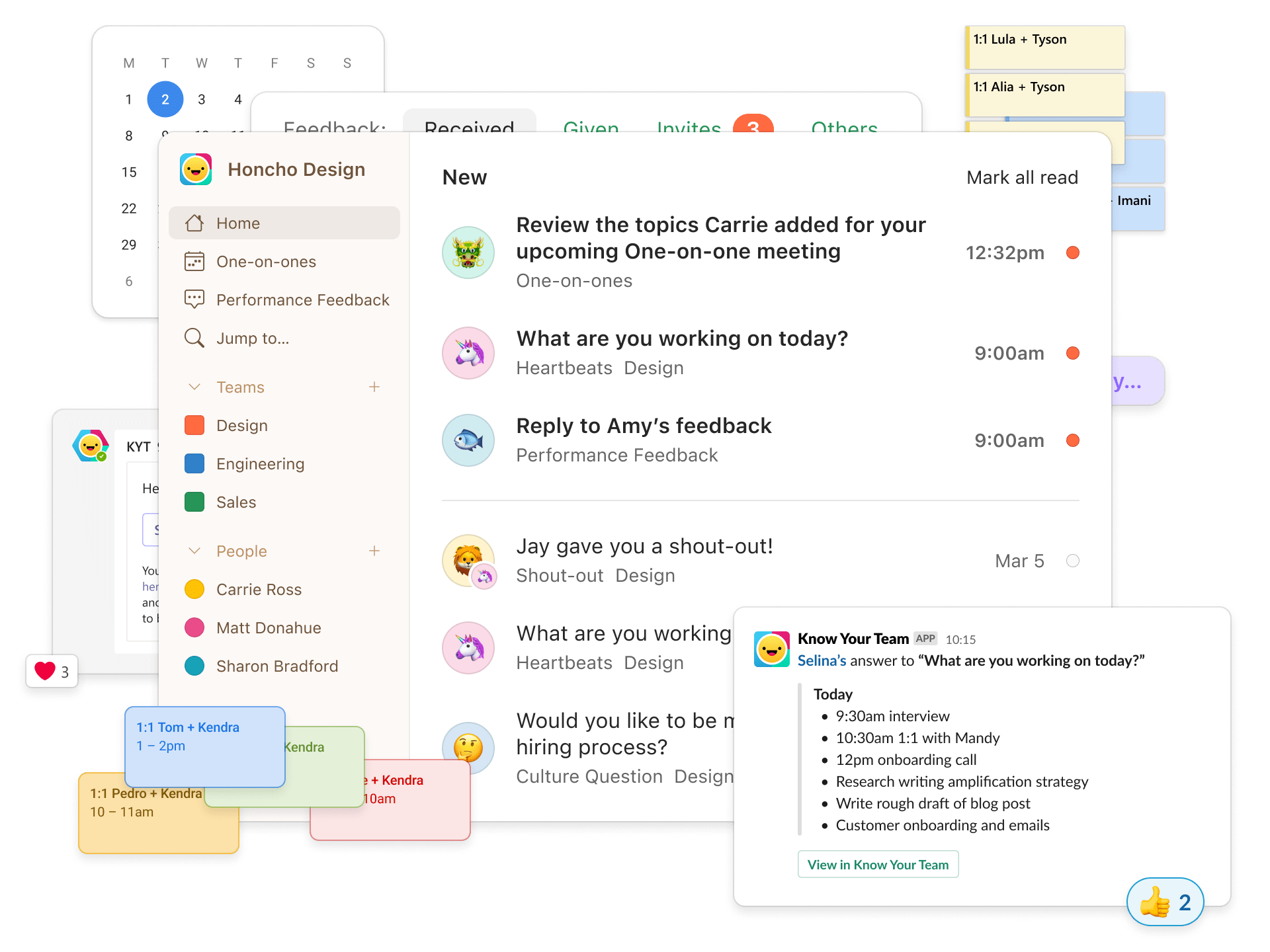 How our Performance Management Tools work
Trusted by
20,000+ managers

…
KYT has allowed us to better communicate and build trust between our leaders and employees. This platform has been well worth the investment.
Trust
Build trust to help your team work well together…
Icebreakers
Break the ice in your team by asking non-cheesy get-to-know-you questions and learning each other's work preferences. It's a great way to build trust, introduce new team members, and help everyone acclimate to each others' working styles.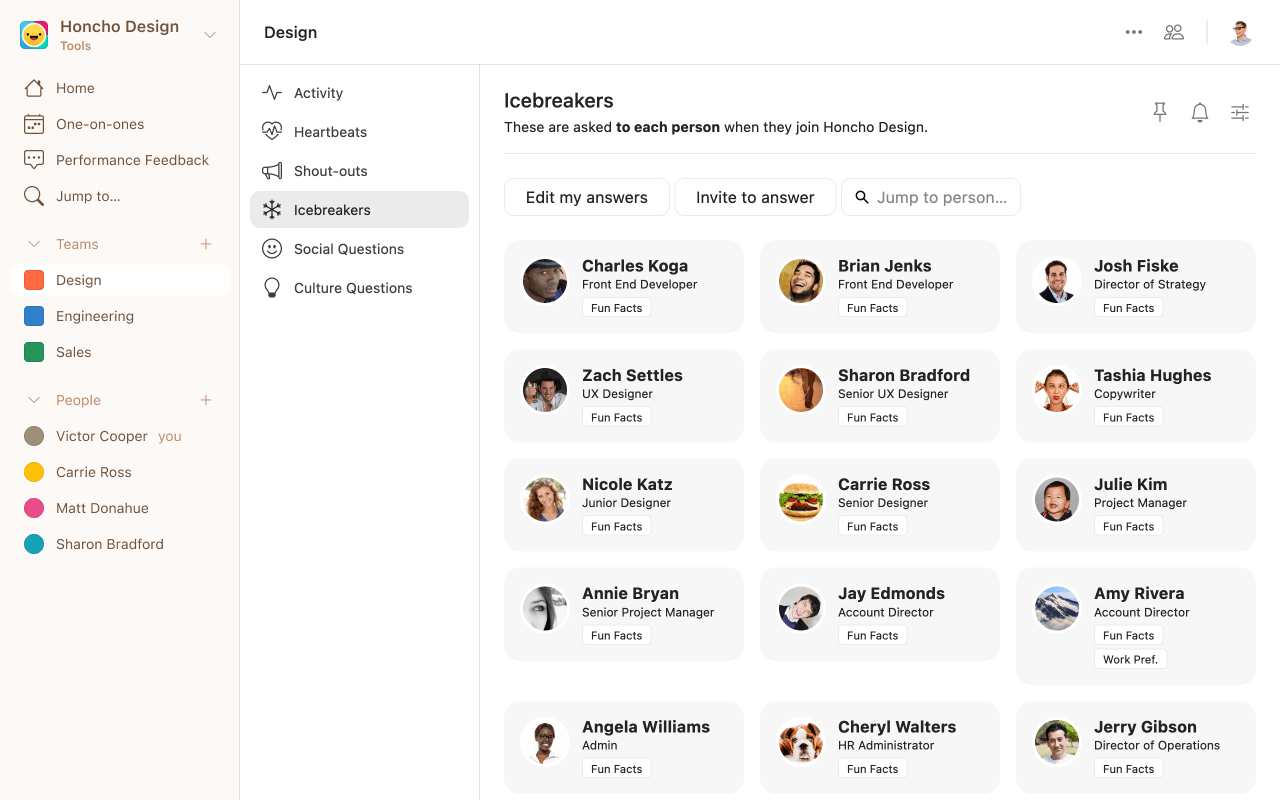 Shout-outs
Give positive recognition to your team members in a meaningful way. Our tool makes it feel easy and natural to share peer-to-peer employee recognition and encourage a culture of trust.
Social Questions
Build rapport in your team by asking 1 rotating non-work-related question. We give you 150+ questions that cause people to chuckle, smile, and feel more connected.
Honesty
Communicate honestly to avoid blindspots in your team…
Performance Feedback
Replace traditional employees reviews with our system of encouraging a culture of feedback and continued improvement. A fresh take on a performance review alternative.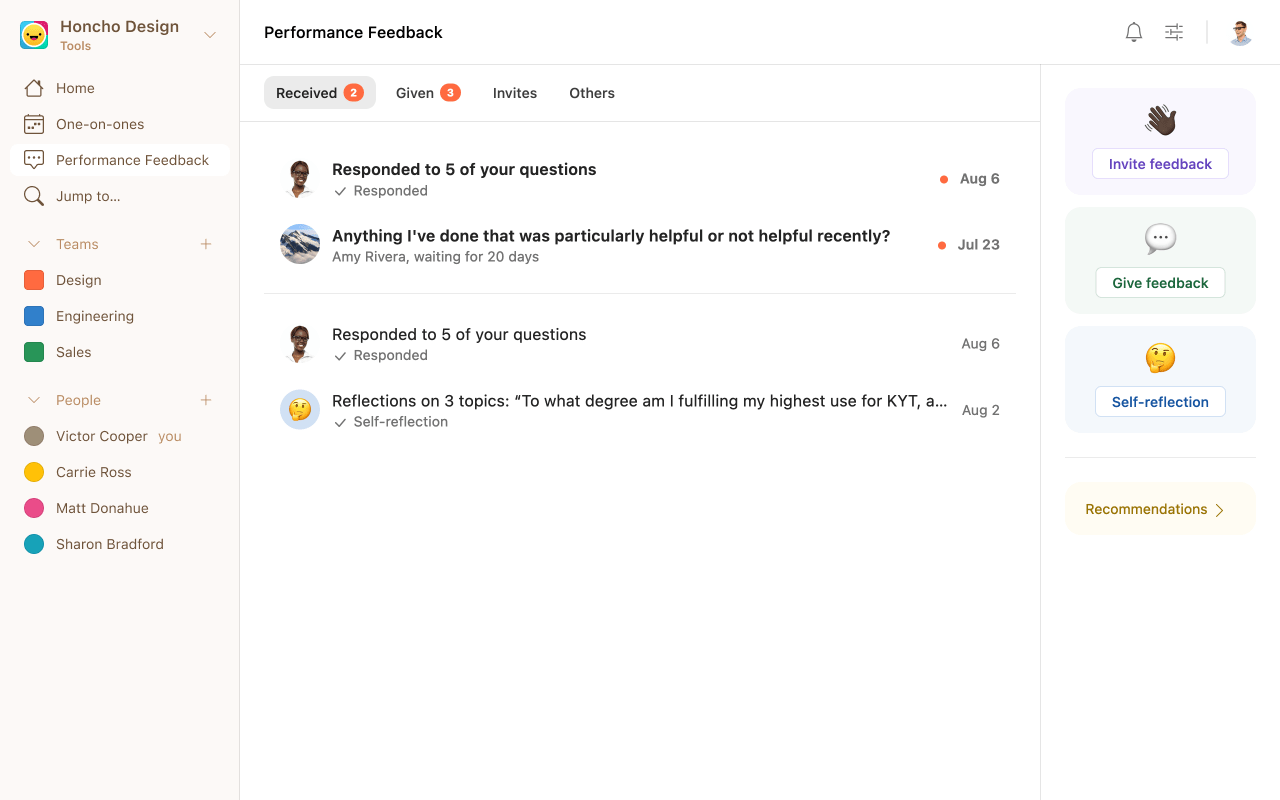 One-on-one meetings
Schedule and prepare for your one-on-one meetings, so you can make the most of that time together. Use 4 different meeting templates, 50+ one-on-one questions, and more.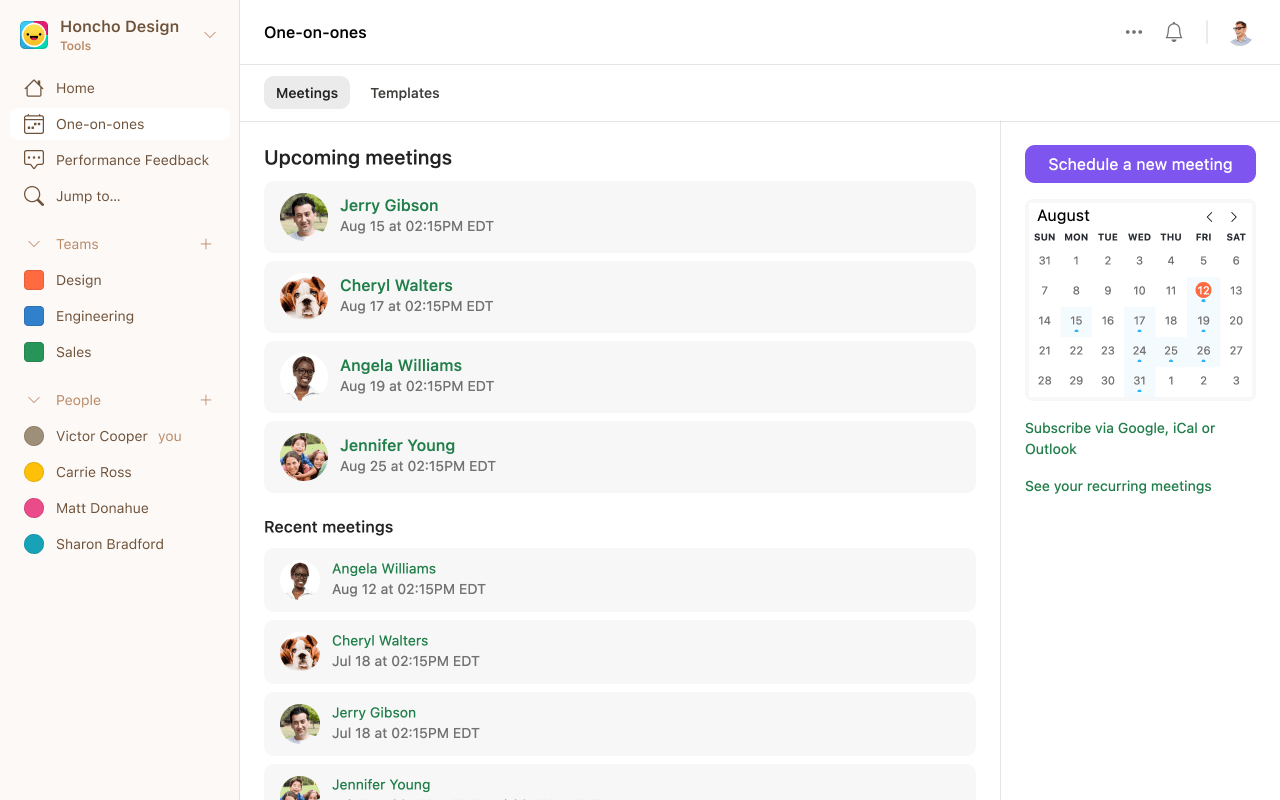 Culture Questions
Uncover how your team feels about the work and culture by asking 1 rotating insightful question. With 150+ questions to choose from, you're guaranteed to learn something new.
Context
Create context so your team knows what's going on…
Heartbeat Check-ins
Get everyone on your team on the same page with a weekly or daily, status update. It's just one question, that saves time, and updates everyone on their progress.
Integrations
Simplify your team's life by combining Know Your Team with your existing tools like Slack, Microsoft Teams, Google Calendar, and Outlook.
With more of our employees working remotely we needed a way to ensure our team remained cohesive and connected. KYT's tools have allowed us to get frank feedback from staff, reduce time spent at weekly all-hands meetings, and opened up a channel for staff to show appreciation for each other — we love KYT!
Ready to elevate your leadership & team's performance?
Replace performance reviews with Performance Feedback
Hold more effective 1:1s with our One-on-Ones Tool
Streamline stand-up meetings with Heartbeat Check-ins
Build rapport with Icebreakers, Shout-Outs, and Social Questions
Integrations with Slack, Microsoft Teams, Google Calender, and more
Performance Management Tools FAQs
How does your Tools pricing work?
Our Tool pricing is simple and straightforward: $6 per person/per month, billed annually, and includes all of our features in Tools. If you add team members later in your yearly subscription, new charges will be prorated. If you remove users, that seat will remain open for the next new user you add to your Tools account.
Do you have an enterprise plan for Tools?
We sure do. We offer our enterprise plan for organizations with 500+ users and it includes helping you with Single Sign-On (SAML), priority support, custom onboarding, and more.
I'd love to use a few of your tools, but not all of them. Is that possible?
Absolutely! You can turn on and/or off any of our tools and are not obligated to use any of them.
I'm an existing KYT customer and I'd like to try out your new performance review alternative. How do I do that?
Fantastic! Drop us a note at support@knowyourteam.com and we'll make sure to get you all set up with a personalized demo or trial period of our performance review alternative.
I noticed you offer several products… how do I know which one is right for me?
Great question! Explore your options here for our recommendation on which product might be best for you.