Say goodbye to rookie
manager mistakes

.

Our contextualized learning platform gives you what you need as a first-time leader, when you need it.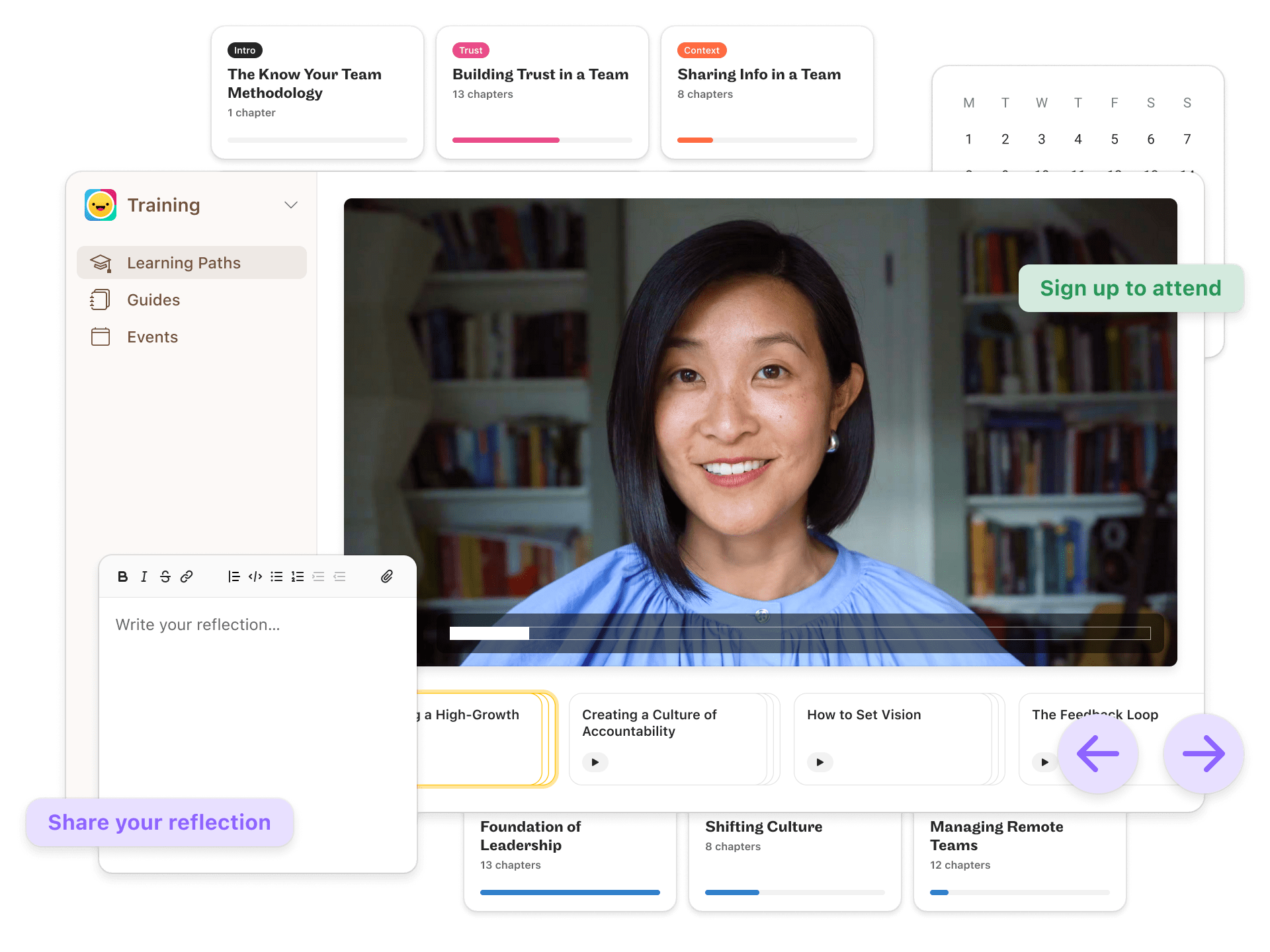 We did all the research for you, so you don't have to
Most leadership trainings are developed from a singular, prescriptive view. We did the opposite: We distilled 50 years of management research, conducted our own research working with 30,000+ leaders in 25+ countries, trained 20,000+ people over the past decade — and poured our learnings into this product.
From our rigorous investigation, we designed learning paths around the most challenging leadership situations, with 120+ on-demand lessons you can choose from, including:
Starting as a New Leader
Foundations of Leadership, Primer for a New Manager, Giving and Receiving Feedback Well, How to Set Vision, and more…
Leading in a High-Growth Environment
How to Lead High-Growth Teams, How to Coach Employees, How to Lead with Emotional Intelligence, and more…
Dealing with Performance and Engagement Issues
How to Improve Morale, How to Create a Culture of Accountability, How to Fire an Employee, and more…
Managing a Remote Team
How to Lead Well Remotely, Effective Communication Practices, Building Trust in a Team, and more…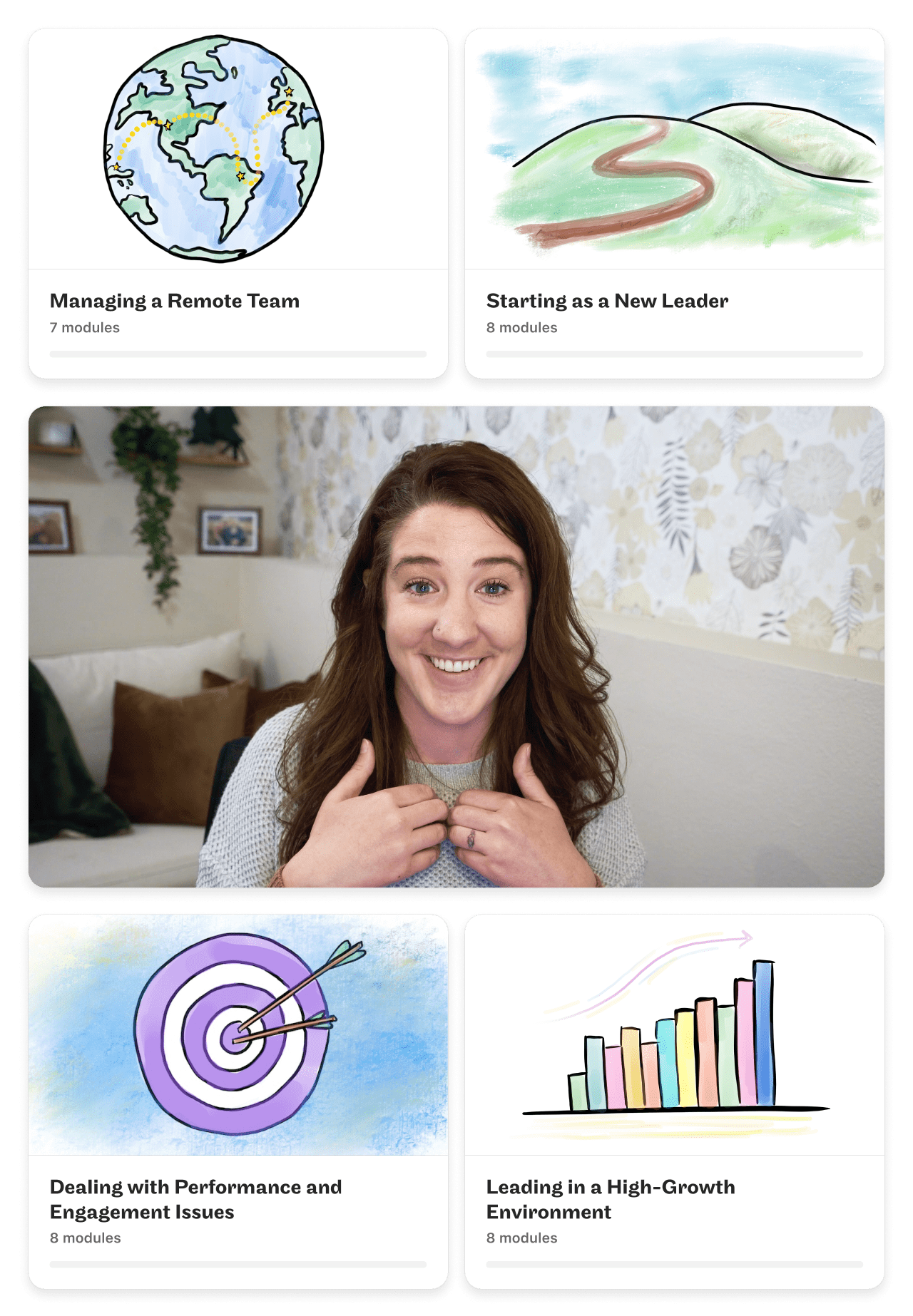 Eager to dive into these
learning paths

, yourself?
For someone very busy like me, the KYT content is always a good use of my time.
Receive executive coaching-level insights, without the executive coaching commitment (or price)
Once a month, we'll run a live masterclass session, personally run by our CEO Claire Lew and Leadership Trainer/Coach Jenny Nichols where you can receive on-the-spot coaching and talk through how you're applying what you're learning. Attending these live monthly sessions or watching the recordings — with direct access to Claire and Jenny — is included in your membership, which is only $125/month, billed annually.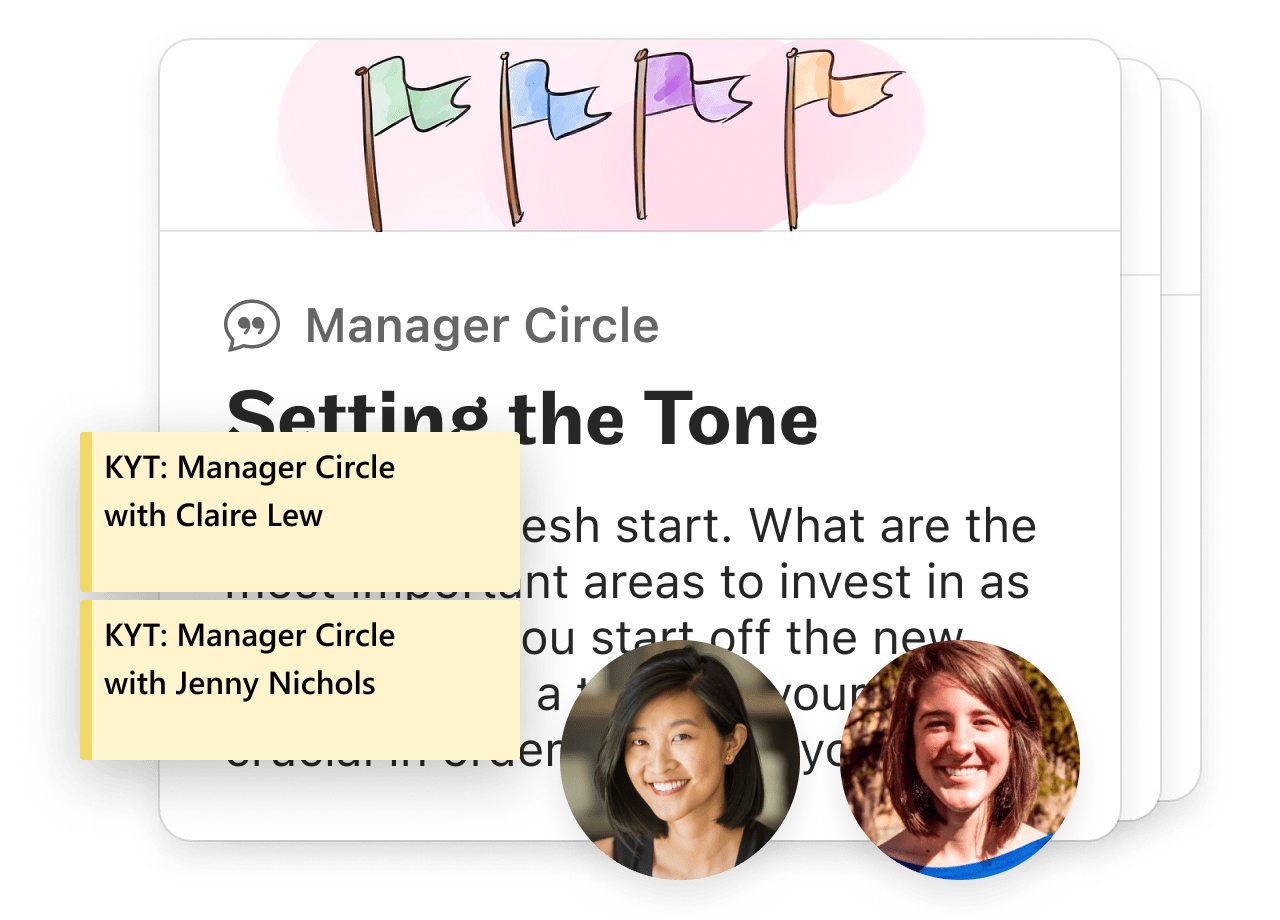 Learn at your own pace, on your own terms
"Busy" doesn't begin to describe how full your calendar is. That's why everything in our Training product is on-demand. Participate in the Learning Paths at your own pace (say, 15 to 30 minutes, here and there as you have time). Watch the recordings of the live events, pause it, take notes, and rewind to parts you're keen on, when you want to hear how other leaders are navigating their challenges. It's all on your schedule — not someone else's.
The abundance of content in the Leadership training platform has really helped me to envision the leader I want to be.
No more information overload: Focus on one central resource
Instead of trying to digest hundreds of books and podcasts and pull the meaningful and actionable pieces from them, focus on one resource that clearly lays out the best practices for you. In our Guides, we took all the data, research, and literature written on leadership in the last 50 years, and streamlined it for you, so you can access frameworks and best practices all in one place. Now you can focus on applying your learning, rather than spending the time searching for what you need to learn.
Avoid "in one ear, out the other"
We're inundated with content and "training" as leaders. How do we actually retain what we're learning? Studies show self-reflection increases a person's performance and helps them translate learning into action, even moreso than directly practicing the task. Because of this, we've built reflections into our product. This helps you avoid forgetting what you've learned so you can level-up up as a leader, faster.
Don't tough it out alone — connect with and learn from fellow leaders just like you
A funny thing happens when you become a leader: You become removed from your team in a way you hadn't before. Your direct reports who were once peers treat you differently. Team members seem less open toward you. Being a leader can feel isolating… which is why peer support is critical. As a result, in our Training product, we give you direct access to connect with thousands of other leaders — and create a space for our community of leaders to share what's working and not working for them.
I loved gaining new tools, ideas, concepts, and practices not only from the content but also in community with other leaders, from whom I was able to learn from their experiences and perspectives. It's something I feel like every leader who wants to lead intentionally would greatly benefit from.
Ready to start becoming a better leader
today

?