Integrations
App fatigue? Simplify your team's life by combining Know Your Team with your existing tools like Slack, Microsoft Teams, Google Calendar, and Outlook.
Try Tools free Questions? Let's chat
Status updates, team feedback, team rapport — all in Slack or Microsoft Teams
Avoid asking your team to use yet another tool. Make getting status updates, asking for employee feedback, and building team rapport as natural as chatting back and forth in Slack or Microsoft Teams. When you use our integrations you're giving your team the best shot to engage with you, and with each other, consistently over time — all through the tools that they're already using.
You can connect your Google and Outlook calendar, too
When you schedule your one-on-one meetings in Know Your Team they'll automatically appear in Google Calendar or Outlook. That way you can keep the context capturing smarts of our One-on-Ones tool all in one place, without needing to maintain separate calendars.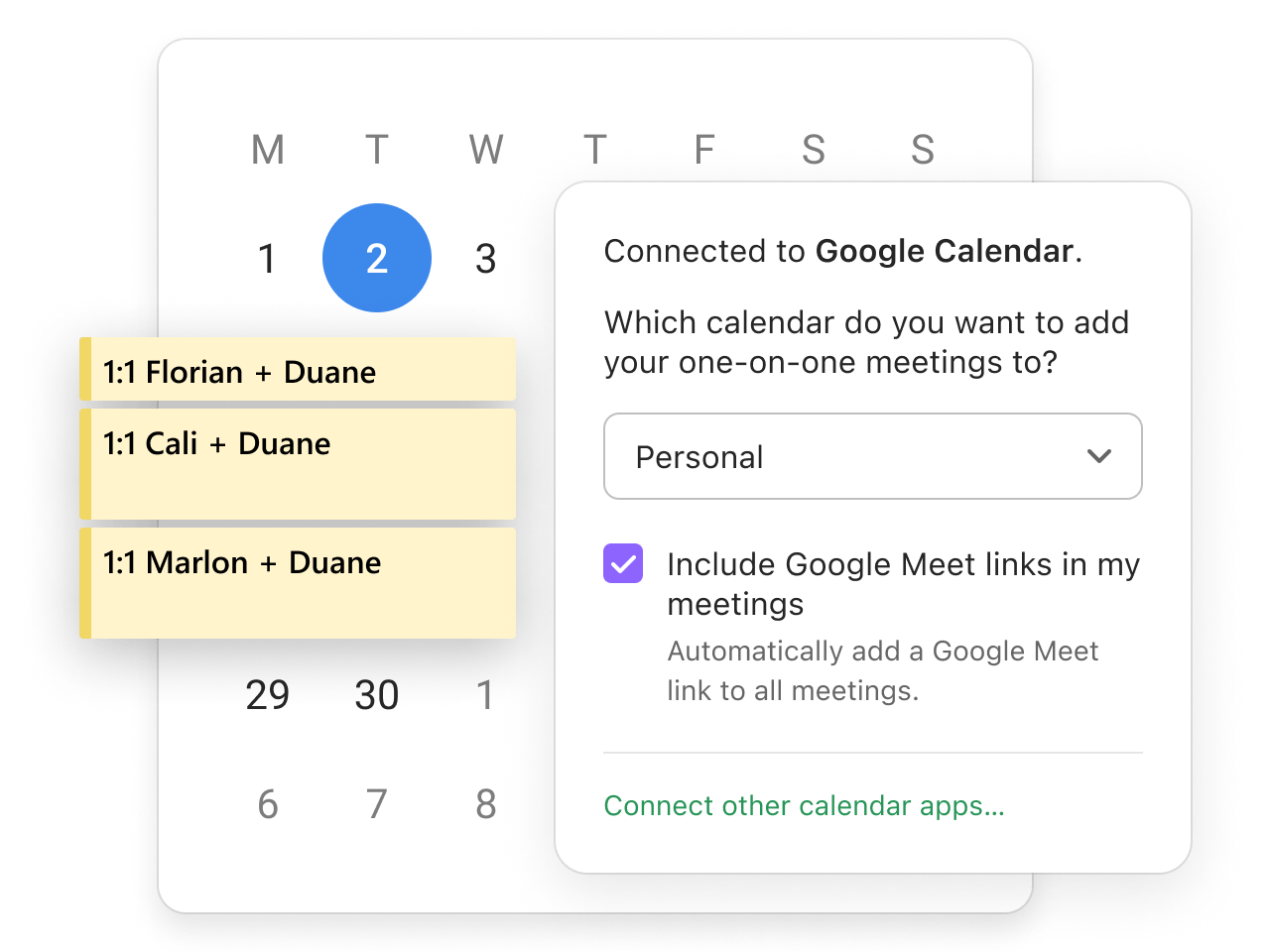 Here's how our app integrations work
In "Settings" in Know Your Team, you can turn on any of the Integrations with a click of a button. That's it! Get KYT Heartbeat Check-ins, Culture Questions, Social Questions, Icebreakers questions & summaries, and One-on-One Meeting reminders delivered to your team via Slack or Microsoft Teams direct messages. Your team will be able to work better together in the environment in which they're already working.
The Know Your Team questions and corresponding rituals have quickly become a fundamental method towards growing our culture. It's become a natural process of near daily learning as we grow closer together as a team.
Ready to give our
Integrations

a try?
Replace performance reviews with Performance Feedback
Hold more effective 1:1s with our One-on-Ones Tool
Streamline stand-up meetings with Heartbeat Check-ins
Build rapport with Icebreakers, Shout-Outs, and Social Questions
Integrations with Slack, Microsoft Teams, Google Calender, and more
Integrations are just one of many features you have access to when you sign up for Know Your Team. See all the features in Know Your Team here, or learn more about the methodology behind each feature here.